About Us
Established in 1954, Eckstine Electric Company is a versatile electrical contracting company. We can assist you in all aspects of electrical work, from high voltage to design/assist.
The key to our success is our relentless focus on the basic factors that drive project outcome to be on-time and on-budget work done with accurate, reliable and safe performance.
Eckstine Electric Company's specialty is large electrical projects, such as water treatment plants. We have also assisted with the design of parks for cities and counties.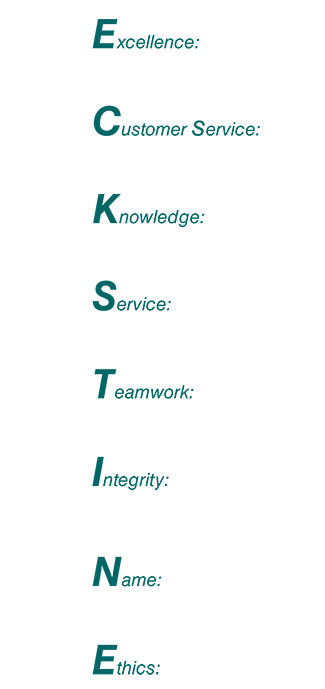 The excellence of our team is derived from the excellence of its members.
The quality of what we accomplish is measured by the satisfaction of those we serve.
Understanding acquired through experience.
"Doing what we are hired to do" and being personally responsible and accountable for doing our part.
We build organizational strength through teamwork and organizational trust through respect for each other.
We will continually improve the way we do business and be responsive to the need to change and to maintain the highest level of integrity.
Reputation of a workforce valued in diversity and knowledge.
Trust, Teamwork, Respect and Involvement.
For information or questions, please Contact Us. We look forward to hearing from you!